Pitman Training – Distance Learning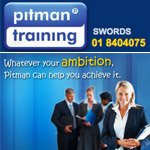 Pitman Training Swords are expanding their distance learning centre course range due to demand. Now people from rural areas or those with childcare, health or transport problems can have the benefit of access to the sort of courses usually only available in big cities.
Maria Lalor, MD of the Swords Dublin centre, said: "We have been staggered by the amount of people who want to study at home. It's more suitable for people for various reasons but I think the present economy is forcing people to rethink a lot of things. Studying at home saves the cost of transport, parking, childcare, buying lunch out, etc."
"In the past home study colleges were associated with poor quality courses but technology advances have revolutionised home study. This means that people can study at home exactly the same as they would have studied in the centre. Tutor support is the same –via telephone or email."
"I'm delighted that we can help people in this way. It means that people who had a limited choice of study and job options can now train for a better-paid job."
Distance learning isn't new to the Pitman Company. Sir Isaac Pitman, the company's founder, started selling his shorthand course for home study via mail order and eventually he formed colleges to teach his shorthand method and other skills to meet the demands of the rapidly-developing offices of his day.
Now people don't have a limited range of course choices. The options for study at home are massive and cover Finance (Sage, book-keeping, payroll), Microsoft Office, IT Technical (A+, MCSA, etc.,), Specialist Secretarial (Legal Secretary and Medical Secretary specialities), Management and Personal Development.
Maria continues, "Our students appreciate the flexibility of the home study options we give them. They aren't restricted to bus timetables, leaving before the rush hour, not being able to study on bank holidays, etc. They decide when and how they learn and that freedom and flexibility actually makes them more successful. Our students who study at home progress just as well as the students who study in-centre. And we're there to remind them if they lag behind!"
Pitman Training Swords can be found in North Street, Swords. More details of courses can be found on Findacourse.ie – Pitman Training Swords on Findacourse.ie