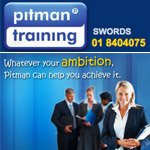 Pitman Training Swords are pleased to announce the launch of eight new office skills e-learning courses.
Time Management

Personalities, Profiles and Plans

Communications in an organisation

Interpersonal Communications

Managing Internal and External workplace communications

Principles, Standards and conventions of Accounting

Marketing, Principles and Practices

Marketing Mix

Different Leadership Attributes and Skills

Team Development
The courses are online and would benefit anyone who has been given more responsibility (or aspiring to more responsibility).Wants out-of-hours learning or is unable to get to the training centre on a regular basis.
Benefits
Career and work-focussed learning
Hints and tips to solve real work problems.
Special learning activities help the student put into practice what they have learnt.
For further information please contact Pitman Training Swords. 01 8404075.
View Pitman Swords Distance Learning Courses on Findacourse.ie at https://www.findacourse.ie/colleges/pitman-training-swords/
View website at www.pitmantrainingswords.ie.
Email: swords@pitman-training.net